Herman D. Klaumann  (Klauman)
Born:  30 May 1851** in Rhineprice, Prussia*
Died:  30 November 1914**
Married Fredericka Steyer on 1 July 1875 in Cook County, Illinois (county record)   
Parents:  John Klaumann + Henrietta __. 
Emigrated to American: 28 May 1858.
      Middle initial "D" from marriage license. 
Born:  February 19, 1855**, New London, Connecticut*
Died:  November 7, 1928**
Parents:  Andreas Steyer (1827 – 1881) and Barbara Herman
         Morphew/Murphy Story, by J.R. Murphy, 25 January 2006
Known locations that Herman Klaumann lived:
(1)  Germany to 1857
(2)  New York City, N.Y.
(3)  Muscatine County, Iowa  ~1858 to 1864
(4)  Chicago, Cook County, Illinois 1864 to about 1877
(5)  Iola, Allen County, Kansas to 1914
* Kansas: A Cyclopedia of State History... with supplementary volume, Standard Pub. Co. Chicago 1912, via Kansas State Historical Society.
** Family records
Early Years for Herman Klaumann
Herman Klaumann was born in Rhineprice, Prussia and came to America when he was 7 ½ years old (about 1858 or 1859).  His parents lived first in New York, "then settled in Iowa.  At the age of 13, Herman went to Chicago where his sister Christina was then living.  There he married and later moved with his family to Iola, Kansas." (From Louis Klaumann/J.W. Murphy, 1954.) 
Herman Klaumann in Chicago, about 1864 to 1877
According to J.F. Murphy:  Herman had a job in a grocer store in Chicago and soon he met his wife Fredericka Steyer at a German gathering.  The first time Herman, Jr. went out to see her, he didn't have enough money to take a horse trolley.  He was given directions to where she lived, and locating the right trolly, he followed along behind it.
The grocery store was located at 19th Street and Racine Street just southeast of the Chicago Loop.  That area now is a part of an urban renewal project and no longer exists.  The grocery store was a frame building on the corner.  Mr. Kraft of Kraft Cheese Company sold cheese in a horse driven wagon personally to the grocery store and somewhere is a picture of Herman standing in the front doorway with Kraft, the original owner of the Kraft Cheese Company.  For many years there was a close friendship between the Klaumann and the Kraft families.  During the World Exposition in 1893 the Klaumann family visited Chicago, staying with the Krafts and one other family (of a wholesale grocery firm).
Herman and Fredericka Klauman in Kansas, About 1877+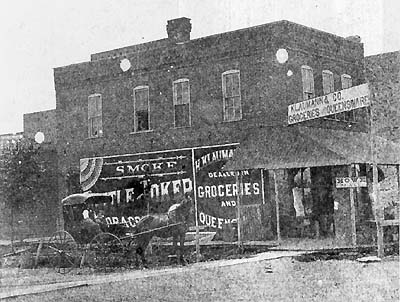 Kansas State Historical Society, Copy And Reuse Restrictions Apply - http://www.kshs.org/photos/webuse.htm
After Herman married Fredericka, he decided to move west and go into business (Clara Klaumann being born in Chicago) at Iola, Allen County, Kansas, and went there by train.  He bought a building there where he could live upstairs over his grocery store.  The first year was real tough because the farmers didn't have much money and bartered with potatoes, etc., which made Herman trade for money when it was possible.  During the early years of the store, they were very poor and didn't have enough money to have a carpenter even make rooms out of the second floor where they were living.  So they put up wires and hung bedsheets to make room divisions.  Granddad bought a parrot and a spitz dog for the children to play with.  About this time Fredericka wrote her brother in Germany and he came over and worked in the store.  After about 10 years they began to be prosperous and bought a home so they could move out of the store.  Shortly after that, Herman decided to sell the business to his brother-in-law Henry Steyer.
After this, Herman opened a real estate and insurance office and did a modest business. He later was a director for the Iola State Bank there.  For investments he bought several properties in Iola, including a farm.  He speculated in 80 or 120 acres of orange grove land near Arcadia, Florida.  He bought the land in Florida sight unseen and also some land in Missouri in the Ozark Mountains, near Rolla, which was supposed to have zinc on it.  He was never able to do anything about it because there wasn't any road or railroad nearby.
One day a fellow Herman never saw before in his life came into his real estate office, and showed him a freight car seal, which he invented and had patented.  This fellow told Granddad that he had one or two railroads interested in it but he didn't have any money or anyone to back him.  Granddad believed his story and offered to back him financially.  They bought some presses and set up a manufacturing facility in the back of Granddad's real estate building, employing three people.  While Granddad stayed in Iola, his partner went to Chicago and soon had three railroads using the seal – possibly the Kansas City Southern, the Rock Island, and MKT.  Later this fellow came back and offered Granddad (possibly $25,000) to buy him out and which he did.
When the freight car seal man first came to Herman, Grandma was all against it, saying all the money would be lost.  Later when the partner offered to buy Herman out, she decided it finally was a bit of okay. 
Kansas Cyclopedia – 1912*: Personal History of Herman Klaumann (condensed)
(Courtesy of Kansas State Historical Society)
            Herman KLaumann attended the public schools (in Muscatine County, Iowa) until he was twelve years old, when he went to Chicago alone, and his entire capital consisted of thirty-five cents.  He secured employment there, in a grocery store where he remained four years when a wholesale grocer, with whom he had become acquainted, furnished him a stock of goods, and he engaged in the grocery business on his own account, and for five years followed that business in Chicago.  He was there during the great first of 1871, and lived within two blocks from where it started. 
            In 1879, Mr. Klaumann came to Kansas, and settled at Iola where he engaged in the grocery business.  His store was located on the Northwest corner of Madison and Washington Streets, in a frame building 20x40 feet.  In 1881, he built a two story brick building at the corner, where the Iola State Bank now stands, and in 1884, he added an annex to this building, which was also occupied by his grocery business.  His retail business grew to large proportions and he added a wholesale and jobbing department.  On May 23, 1899, he sold the business to his brother-in-law, H.W. Steyer, who is still engaged in the business. 
            Mr. Klaumann then engaged in the wholesale produce business, as a member of the firm of Bixby & Klaumann.  This continued until 1901, when he disposed of his interest, when he engaged in the real estate and insurance business, to which he has largely devoted his attention since. 
            When the Iola State Bank was organized, he was one of the charter stockholders, and later bought a large block of stock in the Gas City State Bank and became its president.  This institution later liquidated its accounts and closed its business with a clean slate. 
            Mr. Klaumann has taken an active interest in many local enterprises and is ever ready and willing to contribute his time and money to the betterment of his town and county.  When the Allen County Agricultural Society was organized, he was one of the first to lend his aid and influence to the project, and has been a director of that organization for years, and for fourteen years has been superintendent of the Agricultural Building.  He was one of the organizers of the Allen County Horticultural Society, and has served as its president several terms, during its thirty years of existence.
            Mr. Klaumann is a member of the Ancient Order of United Workmen and has filled all the chairs of that order.  He is also a member of the Knights and Ladies of Security, of which he has been financial secretary for a number of years.  The family are members of Christ Reformed church.
Visiting the Klaumann Home – By J. F. Murphy
One of the highlights of boyhood was the visit to my grandparents' home (the Klaumanns).  My mother's parents lived in Iola, Kansas, possibly 150 miles from Washington.  This involved a train trip through Kansas City, and I didn't miss many of the high points of this adventure.
Standing at the Santa Fe Railroad station in Iola, when the trains pulled in, was the horse drawn hack and the driver.  This ingenious closed carriage had cane-covered benches on each side under the windows and a door, with steps, at the rear end.  The luggage was placed on the top of the hack in fair weather, or beside the driver on the front seat and covered with a tarpaulin when it was wet.  The carriage would seat about 10 people and the driver delivered you to your address much as taxis do today, except that you don't hear the cheery 'Giddap' and 'whoa' to start and stop.
Iola was a larger town than Washington, having perhaps 5000 population.  The chief industries were lead smelters and a large cement plant that used the abundant natural gas as fuel.  The town had paved streets – paved with red brick – over which horses and horse drawn vehicles clipped-clopped and clickety-clacked.  Granddad had a modern two-story home complete with full bath.  I marveled at the latter since our facilities at home were 40 paces to the rear in a smaller house, which Halloween pranksters occasionally tipped over!  Since there was natural gas service, Granddad's house was heated by gas stoves in several rooms and the house had gas lighting, mantles, globes, and all.  The lights, in addition, could be turned up or down for the desired illumination and the parlor lights had fancy etched globes as befitted their location.
            Granddad finally had the house wired for electricity – open wiring on knobs and cleats across walls and ceilings and through porcelain tubes in the walls between rooms, but he didn't have the gas lighting system dismantled.  He wanted both systems because he was never sure that electricity would be reliable.  When the electricity did fail, usually during storms, he proudly lighted the gas lamps!  He also had one of the first phonographs in town – with spring wound record player and huge conical horn, out of which came the music.  The was a "Victor' and bore the dog and 'his master's voice' trademark.  On occasion, Granddad would take the phonograph out on the front porch and play it for the kids in the neighborhood.  He loved children and he and I did lots of kite flying when the wind was right.  There was also a lawn swing at the side of the house which seated four persons and when I could get it all to myself, I 'played train' with it, called out the stations as I stopped the swing."  (From "Murphy Family History and Memoirs" by James F. Murphy and Bernice Murphy, 1978.)
Children of Herman and Fredericka Klaumann
1. Clara Fredericka Klaumann was born 15 November 1876 Illinois and died 19 November 1963 at Augusta, Butler County, Kansas.  Married James Wilson Murphy (1876-1968) on 28 June 1904.  "Clara graduated from the Iola Kansas High School and Kansas University and taught in the Iola High Schools for a short time."*  See next generation
2. Louis H. Klaumann (13 August 1878) married Edna __.   Louis graduated from the Iola High School and business college, and in 1912 was a cashier of the Farmers' Supply Company in Arcadia, Florida.* 
            From J.F. Murphy:  "About 1910, my Mother's older brother Louis Klaumann who was married and had two children – Francis and Freda – lived on a beautiful small farm located on the Neosho River just south of Iola, Kansa.  Uncle Louis was employed by the Iola State Bank in which Grandfather Klaumann was a director.  He bought his children a small scale farm wagon and a tame billy goat to pull it and we kids had a big time riding around the fenced farmyard in the little green wagon.  There were also family picnics at 'Electric Park,' east of Iola.  Then the whole family, picnic dinners in large baskets, boarded the street car marked 'LaHarpe' and rode out into the country for an afternoon or evening of fun.  The park was a pleasant grove of trees among which were picnic tables and concessions for the children to ride.  The street cars had caned seats which could be flipped over so you could ride forward no matter which direction the car was moving, and it was fun to sit next to the widow and watch the passing scenery and observe the motorman clanging the bell and controlling the speed of the car with his 'hand controller.'"
            Children of Louis H. and Edna Klaumann (per 1910 Census): (i) Francis S. Klaumann, son, 1904/05 Kansas, (ii) Frederica Klaumann, daughter, 1909 Kansas.
3.  Charles Henry Klaumann was born 3 June 1880 and died 3 June 1957.  He is buried at the Iola Cemetery.  Charles graduated from the Iola High School and Kansas University and in 1912 was an instructor in the Salina High School.*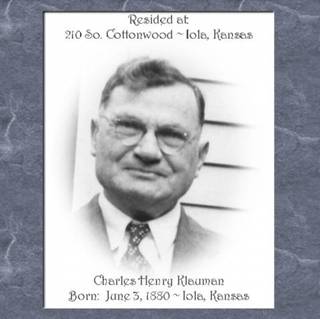 Photo courtesy of Molly K.
            From J.F. Murphy:  "My Mother's younger brother, Charles Klaumann, was at that time (1910) attending the University of Kansas, where he graduated in mining and geology.  After graduation, he took a job in Arizona as a gold mining superintendent but after a few years he returned to Kansas.  I have heard him tell of some of the hardships of desert mining and also that he was glad to get back to civilization where he didn't have to carry a gun!  It was Uncle Charley who cared for my bedridden Grandmother Klaumann who was completely crippled by rheumatism in her later years.  He was the Iola city water superintendent and after Grandmother's death."
            Charles married Clara Bell __, who had two children from her first marriage: Avis R. Mullenneix and Ray Mullenneix.   There were no children for Charles and Clara Klaumann.
            From Molly K: "...Clara and Charles were married in 1929.  They lived in the house on Cottonwood in Iola up until the time he passed.  I believe my grandmother lived there even longer.  ...cannot find a D.O.D. for Charles, possibly 1970-1975.  They never had any children.  I was told that their marriage was out of convenience, but they grew to love each other.  I never met him myself, but my mother says he was a wonderful person.  He helped to raise my father (Ray O. Mullennix) and my Aunt Avis.  Later, he helped to raise my oldest sister Patricia.  Clara Bell Klaumann was born 2 June 1892 and died 20 July 1980 and is buried in Wichita, Kansas.  (courtesy of Molly K., e-mail of 17 December 2005).
3. Edward Klaumann was born January 1882 and died 24 August 1882.
Census Records for Herman Klaumann
1870 U.S. Census for Cook County, City of Chicago, District 8:
Herman Klaumann, age 19, appren. cabinet maker, born Prussia. It appears Herman was rooming with the Louis (age 39) and Christine (age 24) Ruecht family, both born in Prussia and their three children – Caroline Ruecht, age 4; Hannah Ruecht, age 2, and Louis Ruecht, age 6/12.  The Ruecht surname should be Buecht or Baecht, and Christine is the sister of Herman Klaumann.
   1880 U.S. Census for Iola, Allen County, Kansas (Page 95A)
            Herman Klaumann, age 29 Grocer, born Prussia, parents born Prussia; Frederica Klaumann, age 25, wife, born Connecticut, father born Prussia, mother; born Bavaria; Clara Klaumann, age 3, Illinois; Louis Klaumann, age 1, Illinois; In the family household:  Henry Steyer, brother, age 16, clerk in Grocery, born Illinois, father born Prussia, mother born Bavaria; Sarah McCarty, relation – servant, single, age 21, born Virginia. 
1910 U.S. Census of  Ward Three, Allen County, Kansas,
            Louie L. Klaumann, head, 31, married 1, 7 years, born Illinois, father born Germ-Germany, mother born Connecticut; Edna Klaumann, wife, 35, M1, 7 years, 2 children, 2 living, born New York, parents born U.S.; Francis S. Klaumann, son 5, Kansas; Frederica Klaumann, daughter 11/12, Kansas.
1920 U.S. Census of Ward Four, South Cottonwood St., Iola City, Iola Township, Allen County, Kansas, page 8A.
            Fredericka Klaumann, head, 64, widow, Connecticut, Germany, Bavarian-Germany; Charles H. Klaumann, son 39, single, Kansas.  
1930 U.S. Census of Ward Four, Cottonwood St., Iola City, Allen County, Kansas
            Charles H. Klauman, head, bookkeeper gas company, age 49, married 1st at age 47, born Kansas, father born Germany, Mother born Illinois; (2) Clara B. Kauman, wife, age 38, married 1st at age 17, born Kansas, father born Illinois, mother born Indiana; (3) Avis R. Mullenneix, daughter, single age 18, born Kansas; (4) Ray (D. or O?) Mullenneix, single age 17, born Kansas